Campaign Profiles
« Back to Campaign Profiles
Critical Transit Measure Coming to Santa Clara Voters this November
September 29, 2016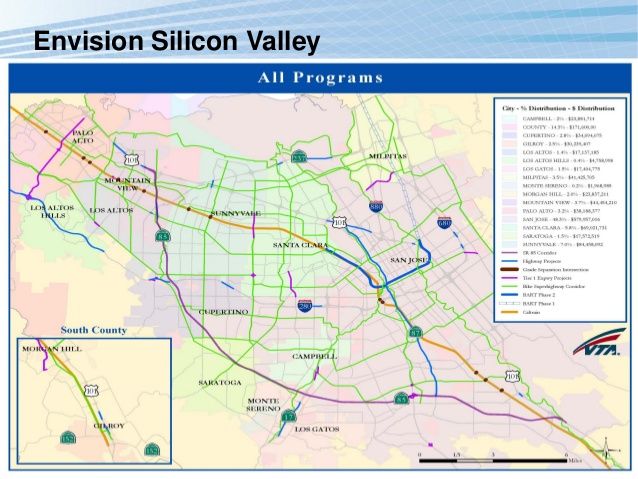 If Silicon Valley is best known for its tech startups, VTA (Santa Clara Valley Transportation Authority) wants residents to know that transit is just as crucial for the region to continue to grow and fill the important role of technology capitol of the world. In what is to be one of, if not the biggest years for transit ballot measures, Santa Clara has a $6.3 billion transportation measure scheduled for the November general election. Funded by a voter-approved 30-year half-cent sales tax, theplan includes noteworthy projects that have long been on the drawing board. The BART Silicon Valley Phase II project will get the most cash—$1.5 billion—to finally connect downtown San Jose with the Bay Area's regional rail system. Caltrain, the commuter rail connecting Santa Clara to San Francisco, would receive around $1 billion for grade separation, corridor capacity, and safety improvements. While much of the remaining funds would be invested in local highway and road repair and congestion relief, VTA pledges $250 million to bicycle and pedestrian connections and safety. Finally, $500 million would be put to improving transit operations and amenities such as increased bus service. A Citizen's Oversight Committee would be formed to monitor progress and ensure transparency.
VTA recognized in 2014 that, in order to fund critical projects, they needed a new dedicated sales tax. From this realization emerged Envision Silicon Valley, a program to bring together community leaders and residents to help formulate a transportation plan and ballot measure. Through a series of stakeholder meetings and extensive public outreach, they were able to communicate their goals, evaluate projects, and analyze the most effective path forward. Overall, five advisory committees were established, a community interest group, and a transportation advocacy group. Just last May, VTA held five informational meetings around the county to receive feedback before the Board vote. The measure was formally placed on the ballot as Measure B in August.
Throughout the process, VTA utilized the Silicon Valley Leadership Group (SVLG), a tech lobbying firm, to conduct surveys and gage public interest. They found that out of 600 likely November voters, 69 percent supported the sales tax measure as of early May. In addition, approximately 1,765 people attended one of the 54 group presentations or community events that were held throughout the community. 156,000 people viewed the website that was set up, and many submitted mock budgets and transportation priority surveys. Some of these were done on Textizen, a text message-based survey platform that let VTA evaluate response trends and statements about the responders' transit priorities. Proving their commitment to community response, VTA announced in late June that they would be shifting their focus from constructing highway toll lanes to building transit lanes after complaints from various city leaders.
Santa Clara County residents have passed various sales tax measures for VTA in the past, beginning with Measure A, a half-cent sales tax passed in 1984. In 2000, voters approved an extension of Measure A that runs from 2006 to 2036 and funds BART extension and other important transit projects. More recently, voters approved a one-eighth of one cent increase for BART in 2008 by a margin of 70 percent to 30 percent.
Carl Guardino, the president of SVLG, will be leading the Yes on Measure B campaign. He brings a wealth of experience, having led the past four transit measure efforts in Santa Clara County. As he was in 2008, Mr. Guardino is confident that a general election will help bring out voters that are "willing to invest in their future." He says the campaign will continue to utilize polls and turnout models to determine swing voter targeting and overall strategy moving forward.
Measure B does face a certain degree of criticism. TransFrom and the Transportation Justice Alliance, a network of community advocacy organizations, have argued that the transportation measure does not adequately address helping low-income residents and reducing greenhouse gas emissions. The local Sierra Club Chapter, Loma Prieta, opposes the measure due to the freeway expansion projects. In the anti-tax camp, The Silicon Valley Taxpayers Association has been vocal in calling the measure a "blank check tax increase" that has no legal commitments.
Still, with frustration directed towards crumbling roads, traffic congestion, and lack of transit connections, there are many voters who are open to and eager for such a tax. San Jose Mayor Sam Liccardo is clear about the problems facing the area: "Our region suffers from some of the worst traffic congestion in the country, leaving our residents with long commutes and constraining the growth of our economy." VTA hopes the myriad of projects they bring to the table will be the solution and that the measure can surpass the two-thirds majority required for ballot measures in the state of California.