Campaign Profiles
« Back to Campaign Profiles
Puget Sound Hoping to Crown Transit as Victor in November
August 16, 2016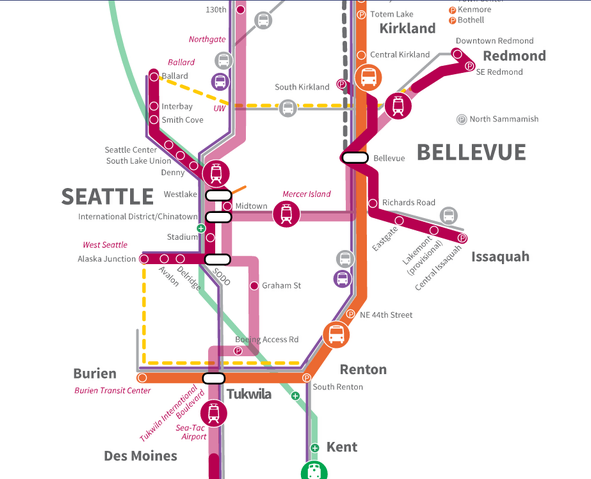 In 1962, Seattle impressed the world when it opened the Seattle Monorail connecting the Seattle Center with downtown. Planners envisioned monorail lines connecting the city and becoming the public transportation option of the future. Ultimately, these visions never came to fruition and Seattle began to lag behind neighboring cities in the Pacific Northwest, such as Portland and Vancouver, which built extensive rail transit systems. In an effort to reverse this trend, Seattle voters approved a ballot measure in 1996 to build a 21-mile light rail line. This line materialized in 2009 when Sound Transit opened the 14-mile Central Link light rail line connecting downtown with the Seattle-Tacoma International Airport. A year prior, voters had approved Sound Transit 2, a plan to expand transit that would add an additional 36 miles of light rail to be opened by 2023. This November, Sound Transit is hoping residents will continue their legacy of supporting transit investment as they consider yet another ballot measure—Sound Transit 3.
ST3, as the plan is known, would add an additional 62 miles of light rail to the system bringing its grand total up to 117 miles. Tacoma, Everett, and West Seattle are just a few of the places that could see new light rail service. New Bus Rapid Transit (BRT) service would connect places like Burien, Bellevue, and Lynnwood. But that's not all Sound Transit is offering. The agency also wants to improve general bus service and the Sounder commuter rail, and invest in other parking, biking, and pedestrian access enhancements. In return, they're asking voters to approve a 25-year, $54 billion spending plan, funded in part by an increase in the motor-vehicle excise (by 0.8 percent), an increase in the property tax (25 cents per $1,000 of assessed valuation), and an increase in the sales tax (0.5 percent). This would raise an estimated $27 billion, which will be combined with other state, federal, and bond revenues. The agency has said that the average adult will end up paying about $14 more a month, or $169 more annually. Residents of Pierce, King, and Snohomish counties will be voting on the measure.
Sound Transit formally adopted the ST3 plan on June 23rd. For months prior to that final decision, the agency solicited public input and feedback through surveys and open meetings. In total, their online survey generated around 35,000 responses; they received 2,320 written comments and 1,200 people attended open houses held across the region. This feedback led them to adjust their draft plan on June 2 in an effort to better address voters' priorities. The most important changes included speeding up ST3 light rail extensions by two to five years and adding some supplemental projects in certain areas.
With ridership skyrocketing by 83% from last year after two new light rail stations opened in March and another station on the way later this year, the agency is hoping that more people are realizing the benefits of transit investment. Sound Transit conducted a phone survey in May that found 65 percent of respondents support the ST3 draft measure. While an encouraging start to Sound Transit's efforts, the elections are still months away and the vote yes campaign will have its work cut out when it comes to promoting ST3.
As campaigns have begun to form, proponents are beginning to highlight several key statistics. By 2040, the Puget Sound region is expected to grow by 32 percent, or roughly a million people. Sound Transit is arguing that light rail is the most efficient and cost-effective way to transport this influx of people; highway delay was estimated to cost Puget Sound residents and businesses $783 million in 2014.
Transportation Choices, a statewide transportation advocacy organization, is set to lead the campaign supporting ST3's passage through Mass Transit Now!, which was active in getting ST2 passed in 2008. The Mass Transit Now! website helpfully lists out ST3 projects by area and emphasizes why ST3 is "a once-in-a-lifetime opportunity." Along with an active website, the campaign utilizes Facebook and Twitter to showcase endorsements, spread information, collect donations, and sign up volunteers. The Transportation Choices website also includes signup sheets for volunteering and vote pledging. They plan to start their efforts of knocking on doors, staffing phone banks, and tabling later this summer.
ST3 may have an early leg up, but potential opposition should not be underestimated. The People for Smarter Transit Coalition recently launched the No on Sound Transit 3 campaign. Their main arguments will be that ST3 enacts costly new taxes, will not solve traffic problems, and is an inefficient use of taxpayer money. They also claim that the ST3 campaign is only being backed by industry corporations that will profit from the new construction. Finally, their website contains a "tax calculator" and a statement that people will pay $25,000 in taxes to ST3 over 25 years. Some who join this campaign may see it as a revolt against "Seattle-centric" transit plans that don't invest enough in suburban areas. Tax fatigue could also hinder ST3's passage as some areas like Snohomish County have recently passed their own sales tax measures. However, Sound Transit recently chose the widely known activist Tim Eyman to write the official statement opposition of ST3 on the ballot. Eyman has a long history of putting unrealistic and incendiary anti-tax measures on the ballot and is not well-regarded by many in the Seattle area. A member of the "No" campaign went so far as to call Eyman "radioactive" to their efforts, demonstrating a somewhat fractious opposition.
A non-profit citizens' organization titled Smarter Transit, has also positioned themselves in opposition to ST3. They argue that the plan would take too long, cost too much, and wouldn't deliver the necessary congestion relief. Instead, Smarter Transit proposes more BRT and rideshare programs. They will likely be a major force within the "No on ST3" campaign.
Although ST2 passed by a 16-point margin nearly eight years ago, the original ST2 proposition (titled Roads & Transit) was first voted down in 2007. In 2008, proponents of transit shifted their strategy from a more top-down approach to one that focused on building a base of grassroots supporters and active volunteers. In addition, they took advantage of new social media sites to fundraise and spread information, and received support from the business community. Because ST2 did not contain the extensive road funding that the 2007 measure had, Sound Transit was able to garner wide support from environmental groups. Finally, timing the ST2 measure meant they were able to take advantage of the increased voter turnout associated with a general election in a presidential election year.
As the campaign for ST3 truly gets under way, transit advocates in the Seattle area must continue to educating the public about the importance of transit, work to constructively and effectively combat its critics, and make sure supporters come out to vote this November. If they succeed, Seattle is poised to once again become a transit leader and a model for contemporary transportation solutions.