Campaign Profiles
« Back to Campaign Profiles
Los Angeles Fighting For Transit
July 27, 2016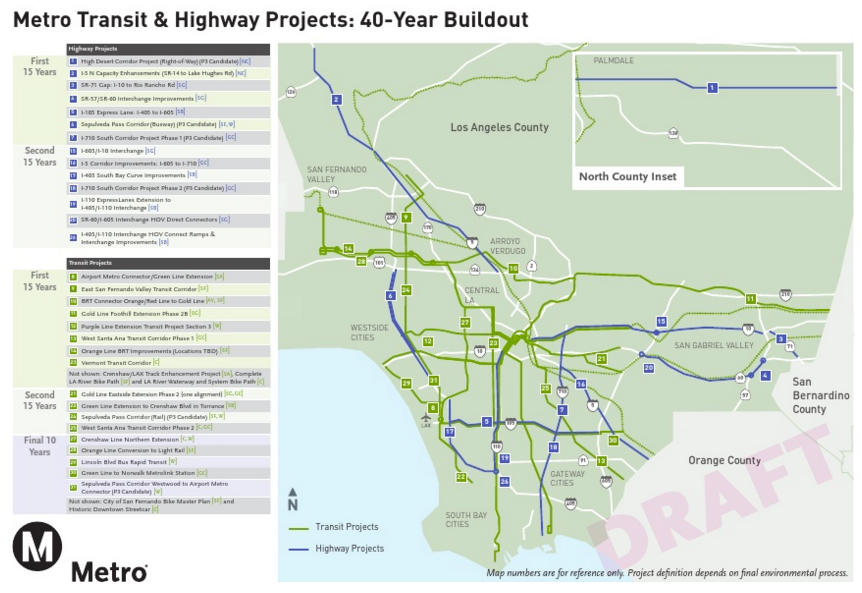 Famously perceived as being one of the most car-friendly places in the world, Los Angeles is taking another go at a long term transit plan. After a series of successful light rail extensions out to Santa Monica and Azusa, Metro hopes to keep the train rolling through 2016 with a ballot measure in November. Just four years ago, Measure J failed to attain the necessary two-thirds majority by less than one percent. It would have extended Measure R, a voter-approved half-cent transportation sales tax, by 30 years in LA County (Measure R is currently set to expire in 2039). Had Measure J passed, some of the results would have included earlier completion dates for major rail projects, key bus improvements, and freeway enhancements.
Metro's new plan has over $120 billion in spending for a wide variety of projects, many of them carried over from Measure J. The plan is expected to go before voters in November and ask for a permanent half-cent sales tax increase (along with extending the original Measure R tax for another 18 years). Originally, the plan only enacted the tax increase for 40 years, but some officials argued for a permanent tax (aka "no sunset") so as to further speed up project completions. Should this sales tax increase pass in November, the average person would pay an estimated $24 more per year. Noteworthy projects on the drawing board include the Purple line extension, numerous light rail extensions (of the Crenshaw line, Green line, and Gold line), an airport people mover, a Sepulveda Pass transit corridor, improved bus networks, local street and bicycle access enhancements, and new highway construction and capacity improvements.
On June 23rd, the Los Angeles County Traffic Improvement Plan was approved by the Metro Board of Directors and will likely be officially confirmed to appear on the November ballot by the Los Angeles County Board of Supervisors in August. Recently, Metro proposed accelerating construction on various projects to appease certain cities within the county. Metro says it has reached 2.9 million people in Los Angeles County with information about the potential measure via social media and that nearly 48,000 people participated in telephone town halls and other outreach events in May. Over 560 people went to public meetings and many others wrote commentary letters. It is noted that 73 percent of those who attended the meetings said that they would vote for the measure if the election were held that day, which is above the necessary two-thirds threshold required to pass. In a recent late May poll, out of over 2,100 phone interviews, 72 percent of residents would vote for a transportation sales tax measure with the current "no sunset" proposal.
Los Angeles Mayor Eric Garcetti has made clear where he stands when it comes to supporting transit in the region: "If we're going to do something real about traffic, we need to act now, and we need to be bold." Indeed, Los Angeles is projected to add another 2.4 million people by 2057, bringing the total to around 6.3 million. The Mayor has put his campaign advisor and political strategist, Bill Carrick in charge of the "Yes on the Los Angeles County Traffic Improvement Plan".
While official advocacy campaigns have yet to form outright, it is clear that many people are already working to make sure that the fate of this measure is not the same as it was for Measure J. In reflecting on the 2012 election, Measure J had a very vocal opposition from various sectors, including Beverly Hills, anti-tax/spending coalitions, outlying cities that thought the plan was too "LA centric", and bus unions that believed Metro was pushing costly rail projects at the expense of bus riders. Metro also failed to properly address transit supporters against the Measure because of the lack in bike/pedestrian safety provisions, something that Metro has worked at for the upcoming measure. Another complaint was that the bill authorizing Measure J to be put on the ballot wasn't passed until two months before the election, preventing advocates from mounting a successful campaign. For this election, Metro has said that they will spend about $10.9 million to educate the public about this measure.
It is expected that MoveLA, a working group created to form coalitions to advocate for comprehensive transportation solutions in LA County, will work hard to promote this ballot measure in November. In 2008, MoveLA worked to create a business-labor-environmental coalition that helped get Measure R on the ballot, and then campaigned for its ultimate passage in November 2008. Investing in Place, a non-profit community advocacy organization is also likely to be a strong proponent of the measure because of the benefits that good transportation options create within a region. A poll conducted by Goodwin Simon Strategic Research (commissioned by Investing in Place) found that voters are particularly receptive to improving active transportation (walking, biking, safer streets, less congestion). However, they also found that just under two-thirds of respondents would currently vote yes on the measure, suggesting a close race to come. The plan has the support of the Los Angeles County Federation of Labor, ensuring a crucial addition to the Vote-Yes coalition.
An encouraging statistic for Metro came in June, in which 2016 rail ridership was up 9 percent from the same month of last year, helped by the recent opening of two major light rail extensions. However, opponents are expected to highlight that overall system ridership has been in decline for two years now (probably explained by lower gas prices, changes in commute patterns, and/or ride sharing). Still, as congestion and environmental concerns keep rising, there is no doubt that transit advocates and officials will not let short term ridership cycles prevent Los Angeles from making the necessary long term transit investments in the nation's second largest city.
*CORRECTION: An earlier version stated that Measure J lost by two percentage points. In fact, it ultimately lost by only about 15,000 votes, or 0.57 percent.