Campaign Profiles
« Back to Campaign Profiles
Indianapolis Pitching BRT as Transit Solution
July 19, 2016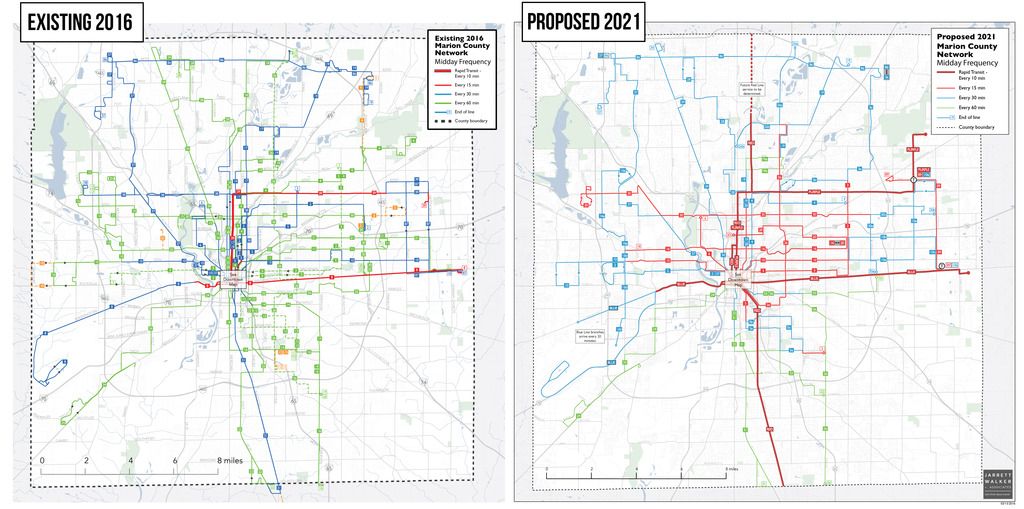 Marion County, the population of which has increased by roughly 60,000 in the last 10 years, has long had a public transportation plan in the works. IndyGo, the area's transit agency, has struggled to maintain services and transit amenities without a new dedicated funding source (current revenue comes from a combination of property taxes, federal grants, and fares). In 2014, the Indiana State legislature passed a bill allowing some counties to collect transit revenue from additional sources as long as voters approved this new transit revenue through a referendum. This bill paved the way for Marion County to proceed with their transit planning. Now that the Indianapolis City-County Council has given the green light for a transit referendum this November, voters will finally be able to voice their opinion on the state of transit in the Indianapolis area.
The plan relies on two central pillars for transit improvements. The first is to enhance the local bus network, by increasing frequencies, lengthening service hours, and expanding rider conveniences (i.e. real time arrival information, advanced payment technology). The second focuses on building out three new bus rapid transit (BRT) lines, starting with the $96 million Red Line, to enhance transit in high-travel corridors.
Along with federal grants, the plan relies on Marion County voters approving a 0.25 percent income tax increase to fund these new services. This will allow the agency to raise an estimated $56 million annually, while a person making $50,000 a year would pay about $130 more. Outside Marion County, several townships have decided to delay holding their own transit referendums until 2018, the next available time to hold such a vote. The measures considered in these townships would have raised income taxes to support funding for the second phase of the Red Line.
This effort for a comprehensive transit plan in the Indianapolis Metropolitan area can be traced back to 2009, when "Indy Connect" was launched to produce the Central Indiana Transit Plan. A coalition of public agencies (including the Metropolitan Planning Organization and Central Indiana Regional Transportation Authority) engaged in a series of public input and feedback sessions while drawing up the plan. IndyGo continued this dialogue in 2014 with their "IndyGo Forward" plan which included a sequence of open houses to receive comments on future service changes and proposals. When IndyGo released the Marion County Transit Plan in February 2016, they circulated print, radio, and digital advertisements encouraging people to attend one of the 17 public meetings they planned to hold to provide more information about the proposed plan. To accommodate concerns and other general feedback from the public expressed at these meetings, they altered the plan to ensure it better aligned with the community's needs and desires.
Michael Huber, the CEO of the Indianapolis Chamber of Commerce, has argued for rapid transit as a catalyst for attracting a younger workforce and investment to the region. The Indy Chamber will be a central force in advocating for the passage of the transit measure this November, and they have been studying past successful referenda. They have already launched the Transit Drives Indy website which seeks to educate voters on the benefits of the transit plan and sign up potential volunteers. Because of the nature of a general election season, the Chamber has said that it is unlikely they will produce more traditional television ads. Instead, they plan to promote the transit measure primarily through radio and social media advertisements including specific digital spots. Students will also be hired to spread information and talk about the plan at public events.
The Indianapolis Congregation Action Network (IndyCAN) is also strongly supporting the measure as "an engine of racial and economic equity that connects everyone in a shared future." They have launched the Ticket to Opportunity campaign which has a sign-up/pledge sheet for volunteers. Organizers aim to reach 80 thousand people in Marion County by Election Day. The Metro Indianapolis Board of Realtors (MIBOR) is also said to be supportive of the transit referendum.
Opposition to the measure has so far focused on the Red Line BRT. Some residents have voiced their concerns with the increased development, parking space reduction, and congestion that they believe are likely to follow after construction. The opposition group Stop the Red Line argues that the bus system won't be able to cover future operating expenses without increasing fares. Currently, they are viewed as the most formidable opposition to the measure, though other groups such as the Libertarian Party of Marion County have been active with petitions.
Currently, Central Indiana ranks 86th in transit spending per capita, though they would jump up to 65th with the revenue boost from a successful referendum this November. While a transit referendum is unprecedented for the area, the Indianapolis Star has reported that other miscellaneous tax hikes in Marion County and throughout Indiana have enjoyed a decent success rate. That, combined with a strong history of nationwide support for transit at the ballot box, suggests hope for a successful election in Marion County this November.