Campaign Profiles
« Back to Campaign Profiles
A Light at the End of the Tunnel for Transit in the Motor City
July 06, 2016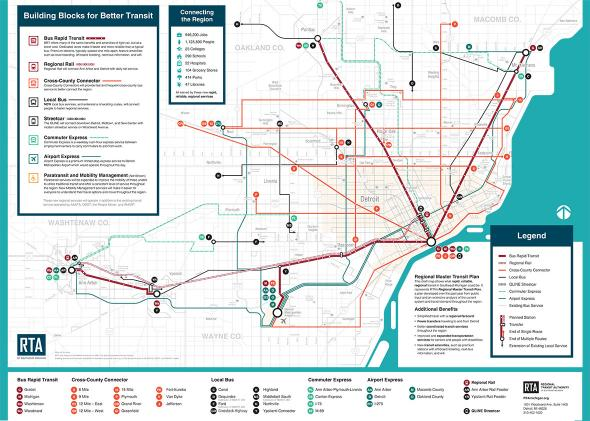 While the Detroit-Metro region may be known for many things; the "Big Three," Motown, and the Red Wings, public transportation has not, of late, been one of them. After a once-expansive streetcar network was shuttered in 1956, transit has unfortunately taken a back seat. In 1987, an automated People Mover opened in downtown Detroit, but the promised feeder connection routes were never built, so the DPM ultimately served few practical mobility purposes.
Many of the major Detroit transit problems developed out of the lack of a unified area transit agency. Only in the year 2012 was the Regional Transit Authority (RTA) created to "Improve the quality and economic vitality of Southeast Michigan by increasing mobility options for all." It now coordinates four other agencies (the Detroit Department of Transportation, the Southeast Michigan Area Rapid Transit, the Ann Arbor Area Transportation Authority, and the Detroit People Mover). Now, four years later, it looks like the RTA is ready to lead Southeast Michigan into a new transportation era with an ambitious Master Plan that will likely appear on the November ballot for voters to approve.
The RTA Master Plan takes a multi-modal approach, relying on bus rapid transit (BRT), regional rail, commuter express buses, new cross-county bus routes, and improved local service. In total, RTA is planning four new BRT routes, a Detroit-Ann Arbor commuter rail line, Airport express bus service (currently unavailable), and newly improved and expanded bus service.
With this plan, RTA hopes to reach over 1.12 million residences, and support $6 billion in additional gross regional product over the next 20 years. In return, voters will be asked to increase their property taxes by 1.2 mills for 20 years this November. The RTA estimates that a home assessed at $78,000 will have to pay about $8 more a month, or $95 annually. Altogether, the millage is estimated to haul in $2.6 billion, creating a $4.6 billion plan when combined with a series of anticipated Federal and State grants.
Prior to presenting the draft Regional Master Transit Plan, the RTA took strategic steps to build awareness in Southeast Michigan and listen to the needs of the community. Along with surveys (telephone and in-person), the RTA hosted many community conversations across the area to talk about the benefits and opportunities a strong and reliable regional transit system would bring. They then went on to analyze the challenges and holes in the current transportation system and launched a series of strategic corridor studies and started to address them with possible solutions. The ballot proposal is expected to be approved in July.
Currently, the RTA is soliciting public comments and review for the draft Master Plan by holding a series of events and meetings in the four counties that will vote on the plan in November (Macomb, Oakland, Washtenaw, and Wayne). Reception has been good, with a poll showing that 65 percent of respondents viewed the plan favorably after being provided information on it. U.S. Senator Gary Peters of Michigan has called the measure "transformative," and many business leaders have already announced their support, such as the COO of Beaumont Health, the CEO of Rock Ventures, and the CEO of the Detroit Regional Chamber.
The Chamber is also planning a television ad campaign to educate viewers on the lack of public transit in the region and the consequences of it, such as difficulties in recruiting employees. Partial funding and support for this ad campaign is coming from the Kresge Foundation, a private foundation working in Detroit and elsewhere to expand opportunities in urban communities. A Coalition for Transit, which is helping to make the ads, has hired the public relations and non-partisan political consulting firm Truscott Rossman to manage the campaign to vote yes on the RTA measure. A more traditional multi-media communication campaign will likely commence late this summer. Truscott Rossman has been involved in multiple successful Michigan ballot campaigns in the past. An organized group, No Massive Transit Tax, has formed in opposition to the measure. This group is made up of a coalition that primarily includes the Michigan Taxpayers Alliance and the Wayne County Taxpayers Association. In addition, Oxford Township is opposed to the tax because they claim that north Oakland County residents would not directly see any transportation benefits.
Potential obstacles the vote yes campaign will have to overcome include reaching out to suburban voters in Detroit's surrounding counties who may not currently feel the same need for a cohesive regional transportation network. In addition, getting voters to agree to higher taxes has proven challenging in Michigan in the past. In 2015, for instance, to fix Michigan roads and infrastructure, Proposal 1 would have raised the sales tax and indexed the gasoline tax to inflation. In a May special election it was voted down 80-20. Yet, supporters of the vote yes campaign are confident that, in spite of these challenges, they can capitalize on the large turnout characteristic of general elections and succeed in once again making Detroit a leader in public transportation in the United States.