Campaign Profiles
« Back to Campaign Profiles
A Bright Transit Future for Phoenix: Voters Pass Prop. 104
September 04, 2015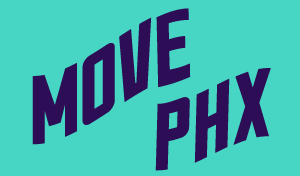 In one of the biggest transit elections this year, Phoenix voters approved Prop. 104, a ballot initiative to increase the sales tax from 0.4 percent to 0.7 percent to fund bus and light rail expansion and road improvements. The measure's support campaign, MovePHX, was integral in the initiative's passage on Aug. 25th.
MovePHX included all the necessary elements of a successful campaign: a strong message on a user-friendly website, an active social media presence, a broad coalition of partners and supporters, and a strong outreach and fundraising team.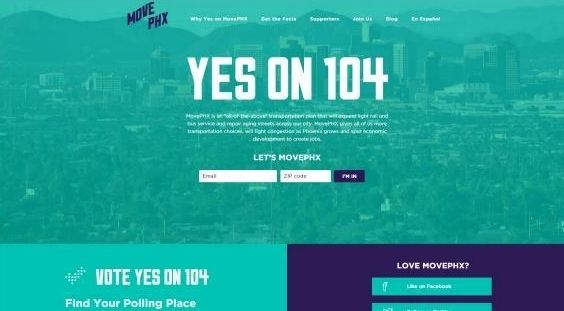 The homepage of MovePHX's website was simple and direct, clearly stating the campaign's message: "Yes on 104." Below, a brief paragraph explained their mission and offered an easy way for interested citizens to sign up and stay up-to-date on the campaign. The rest of the website was informative, on message, and easy to navigate.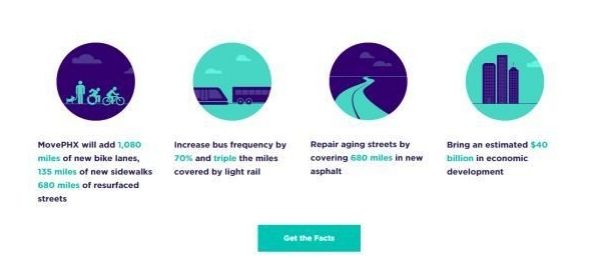 Messaging that appeals to a wide swath of voters is key to gaining broad support for a measure. MovePHX used innovative graphics and clear statistics to plainly outline how a yes vote would benefit all Phoenicians, whether they prefer to bike, walk, drive, or use mass transit. Information on job creation and economic development that would result from Prop. 104's passage even helped appeal to business owners and other community stakeholders who may not otherwise have spoken up in favor of transportation improvements.
Furthermore, in its messaging, MovePHX highlighted the many successes Phoenix's transit system has enjoyed over the years. Hoping to capitalize on this success, the campaign strategically timed the election to coincide with the opening of a new light rail line. This allowed the campaign to show voters the tangible benefits of transit expansion and link future improvements to passing Prop. 104. Even in the midst of organized opposition led by anti-transit group, Americans for Prosperity, MovePHX successfully showed voters how much they stood to gain from future investments in transit.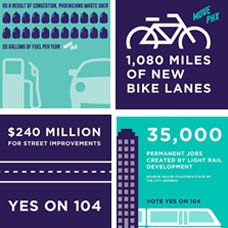 In addition to clear, direct messaging, strong outreach is vital to a campaign's success. MovePHX had a dynamic presence on a variety of social media sites, including Twitter, Facebook, Instagram, and a blog. Through these outlets, they consistently shared useful information including statistics, testimonials, infographics, and information on where and how to vote.
In conjunction with online outreach, MovePHX engaged directly with community stakeholders and voters. A bipartisan mix of 65 companies, non-profits, organizations, and associations publically endorsed Prop. 104, according to the campaign website. Furthermore, an active network of grassroots volunteers directly interacted with voters, going door-to-door and distributing information on the measure.
Mayor Greg Stanton, who enjoys wide support and was also relected on Aug. 25th by a landslide, was one of MovePHX's strongest champions. He vocally advocated for the measure, making Prop. 104 a key tenet of his own reelection campaign. Because of his strong support, MovePHX leaders decided to put the measure on the same ballot as Mayor Stanton's reelection. This decision was compounded by the fact that the campaign believed the lower turnout, characteristic of an August election, would garner greater support for the measure than waiting until the general election in November. The mayor's enthusiastic support and the campaign's strategic timing were integral to the MovePHX's ultimate success.
The final key to MovePHX's success was it's fundraising. Over the course of the five-month campagin, they raised over $1 million from groups ranging from construction companies to transit providers to sports teams. This fundraising significantly outpaced opposition fundraising, and, among other things, allowed the capaign to distribute between 10 and 12 information pamphlets to each likely voter over the course of the campaign.
The path to success on the any campaign trail entails mobilizing and invigorating supporters and getting them to the polls. Through coordinated messaging, outreach, coalition-building, and fundraising, MovePHX paved the way for innovative transportation solutions that will keep Phoenix moving forward for years to come.